Weather Forecasts
Supported by:
Blairgowrie and District Next Steps
News
2019
May 8th
This was supposed to be day 2 of a long planned extensive Cairngorm expedition but the weather forecast intervened. So we did an overnight trip to Muckle Cairn instead. While the trek in was in good conditions this changed overnight into full on winter! We woke to 3 inches of snow. So packing up was a challenge trying to keep everything dry. But we all made it with an overall expedition of 24km and nearly 740m of climbing.
Friday 8th March
International Women's Day, so we changed our normal Thursday for a bit of a challenge to do the Mount Blair to Kirkton section of the Cateran Trail. Thanks to Sue and Charlie for helping to move the bus to the end. It started off clear and could free on the tops, but cold with a developing wind which got worse as we climbed, as did the forzen ground and on the top it was almost snowing in the cloud so we didn't get a view. A descent down the heathery path towards Brewlands led us to lunch and then the long hike up the road to the last off road bit down into Kirkton itself. Well done to the Wednesday walkers who joined us in this auspicious day. Though with a coven of women behind me wildlife took off like a shot, so I saw the herd of red deer but nobody else did!
Keathbank bridge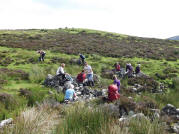 Ancient dwellings, Glen Shee.
Bachnagairn, Glen Moulzie.
I'm watching you! Clouds above Hill of Wirren, Angus.

The Dacies, Canness Glen.