Supported by:
Blairgowrie and District Next Steps
News
2019
December 10th
AGM and Dinner
Thanks were given to: Sue for all the background support, as the emergency office contact line, helping with fund raising and being my right hand man. Thanks also to everyone who helps on a Wednesday, Marjory, Jean, Neale. Also to Strathmore Glens and particularly all the helpers at the markets who help generate a significant lump of support funding.
It has been an interesting year, as while we had a complete schedule, some things were interrupted due to the weather, but we did achieve some notable milestones. Especially undertaking the thousandth walk. Iím not sure that any other group with similar aims and objectives has achieved so much over the last 15 annual seasons.
As well as going over the thousand, we have also collectively exceeded 100,000km, 10,000 walk places and 400km of ascent. That is a lot of footwear! We do have on the books a planned trans-Cairngorm trek. First planned for May, but storms intervened so instead we did a one camp at the Shieling of Saughs and woke to 4 inches of snow! And another multi-day trip from Glen Feshie to Linn of Dee planned to take two nights was also stormed off. The amount of water in the river and burns had to be seen to be believed. Overnight going from 6 inches to over 2 feet.
Planned summer holiday sessions we cancelled as trying to fit in dates when it wasnít raining conflicted with peopleís other plans. We will try again next year. So look out for a river crossing (swimming) day, and more abseiling and climbing opportunities. I will also try and plan another first aid practise day. If we can persuade someone else to help drive the minibus we may also be able to start some more linear walks, as we used to do when Charlie did this for us.
This year we ran 83 walks with 848 places. Not the most (third highest) but we did have quite a lot of cancellations overall, so it remained another successful year.
Thank you to everyone who took part, without whom it wouldn't of course happen, and thank you also for the company and banter which made it very enjoyable, even while slogging out of breath up hills or in bogs!
November 7th
1,000th walk
That's 1000 next steps walks delivered, which does not include around 650 easy walks done on a Wednesday since 2004. Today was cold and damp but the sun did come out occasionally, and we were joined by some of the original gang and old friends. While I have obviously done all 1000, not everybody
else has and congratulations to Pat for putting up with me for over 630 of them! We have collectively walked nearly 102 thousand km (63,000 miles), climbed 3,900 km (2,400 miles or 10 times the altitude of the ISS), and filled 10,200 walk spaces. These are individual events and do not take account of multi-day treks, and other activities we have undertake, so we've done far more than 1000 days! The statistics are impressive, though while we have a reputation for being hard nosed do anything go anywhere major trekkers the reality is rather different. The average walk is just over 10km with 400m of ascent. Our goal is not to be nothing but strenuous but to allow inclusion of most abilities and to encourage people where necessary to explore new things and extend personal boundaries with new experiences. We have done everything related to being in the hills at all times of the year and in some cases in the dark, from multi-day backpacking (1, 2, 3, and 4 day expeds), scrambling (on some of the more interesting Munros), climbing, abseiling, Munro (60 logged with 62 people), Corbett (29 logged with 51 people), Graham (13 logged with 63 people) and Marilyn (18 logged with 69 people) bagging, river crossing days, 1 day linear long distance walks, Cateran Trail (31 compleaters) which I have now done 17 times, and more. We have also done many winter treks, winter 'gully' climbing, winter (and summer storm!) camping. And most of the hills and treks done more than few times too! I am now struggling to find new walks within day driving distance of Blairgowrie, but still manage new ways up the old locations, increasingly now on rougher ground instead of the paths. And on top of all this have also undertaken numerous NGB standard first aid courses and ran the Blairgowrie Walking Festival, and helped the Blairgowrie Community Markets as a fund raiser. While obviously I have been involved in everything we have collectively done, I wouldn't have but for the loyal participants who keep coming back for more. So a big thank you to all as without you I wouldn't have achieved this! A big thank you especially to Sue, who watches in the background does fund raising and back office support (as well as the ultra easy town walks on a Wednesday), and combined with Charlie D (Charlie Mor) has helped move the minibus to allow our linear activities. All of this has been achieved since summer 2007, and I
don't think that any other hillwalking/rambler/trekker/outdoor group has done as much across the UK let alone Scotland. And making it even more impressive is that the average age of the group is in 2019 just over 70. (The average age of the easy Wednesday walkers is only 69!)This has slowly risen
over the years from 63 in 2005. On the advanced walks 65% of us are female, and the average takes account of the occasional under 50 and under 30 member!
© Liz Chisholm
July 9th
Glen Feshie
This started off as a through trip to Linn of Dee in the sun. But a 2 hour thunderstorm at 05:30 the next morning meant a huge volume of water and massively risen rivers and burns. While it then stopped and got sunny the resultant flow and levels remained very high and dangerously so approaching the watershed, so we abandoned the trip and headed back. Fortunately we were able to get a phone signal so Sue wasn't faced with being at Linn of Dee instead of Feshie wondering where we were! Overall the trip was planned to be 32km with 650m ascent, so the second and third days were always going to be very easy after a hard start. In the end a return trip to the Ruighe nan Leum took 27.3km and 651m of ascent so not a lot less and only over two days, so it would still be easily achieved. In the end we did 2 river crossings on the way in and only the main Feshie, whereas on our return another 4, though I only did 1 with boots off, but had to carry 5 rucksacks over. River crossings in this context meant boots off! There was a significant number of washouts on the return route so it was just as well we turned back.
Compare the before and after photos!
Below Ruighe nan Leum waterfall where we decided discretion was the better part of valour.
Rescued salmon parr found in a puddle where it had been swept.
Lochnagar
Lochnagar and accompanying Munros (3 in total) over 2 nights. Marjory now tops the camping list, while Pat is top of the Munro list (and sister Liz at the bottom). 9/7/19
Inspecting and airing bedding in the sun. 8/7/19 © Pat Fraser
May 8th
This was supposed to be day 2 of a long planned extensive Cairngorm expedition but the weather forecast intervened. So we did an overnight trip to Muckle Cairn instead. While the trek in was in good conditions this changed overnight into full on winter! We woke to 3 inches of snow. So packing up was a challenge trying to keep everything dry. But we all made it with an overall expedition of 24km and nearly 740m of climbing.
Friday 8th March
International Women's Day, so we changed our normal Thursday for a bit of a challenge to do the Mount Blair to Kirkton section of the Cateran Trail. Thanks to Sue and Charlie for helping to move the bus to the end. It started off clear and could free on the tops, but cold with a developing wind which got worse as we climbed, as did the forzen ground and on the top it was almost snowing in the cloud so we didn't get a view. A descent down the heathery path towards Brewlands led us to lunch and then the long hike up the road to the last off road bit down into Kirkton itself. Well done to the Wednesday walkers who joined us in this auspicious day. Though with a coven of women behind me wildlife took off like a shot, so I saw the herd of red deer but nobody else did!
Keathbank bridge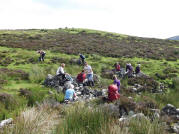 Ancient dwellings, Glen Shee.
Bachnagairn, Glen Moulzie.
I'm watching you! Clouds above Hill of Wirren, Angus.

The Dacies, Canness Glen.