Weather Forecasts
Supported by:
Blairgowrie and District Next Steps
News
2018
September
11th
A first aid practise day. An opportunity to (try) and remember what we should do and work around some problems. Luckily Linda volunteered to be the willing casualty. Several scenarios and an opportunity to practice CPR and use an AED. Bill the dummy was dressed to add a bit of minor difficulty, some people had trouble with getting the clothes off him and back on! We had broken wrists, head fracture, anaphylaxis, car accident, climbing accidents, and bikes too. Very enjoyable and as realistic as reasonably possible. Bruno was kept indoors.
After this we had some practise climbing wall sessions, getting used to an auto-belay, needing a leap of faith for the first few times, and more instructions to keep your legs apart. Photos on one of my albums.
3rd/4th
Our second camping trip of the year was to Glen Derby. We've been there before but not without midges. This time was different. It was a warm walk in without a hint of breeze and in the forest there were one or two of the blighters. However once out there was a bit of breeze and with dread we approached the ruin. Unlike on previous occasions the nice grass was overrun with nettles and sheep droppings, so we found another spot on a high point above the bog. This was nice and soft and even the tufted grass levelled off. An interesting and quiet night ensued without a hint of midge! The cooling temperatures were probably to be thanked and there was a slight frost before dawn. Overnight the skies were clear, with Mars and Venus in view, the Milky Way lined up overhead with a myriad of stars. The next morning showed a glorious sunrise, which I slept through as usual, and rapidly melted the frost leaving a clear and crisp walk out.
March
After not doing a trek for International Women's Day last year due to illness, this year we (Nick) decided to summit Badandun Hill. This was a full on winter walk ascending over 440m on a very snow covered hill. In places crisp enough to stand on, but often not! There was a large herd of red deer, numerous grouse and a few mountain hare to keep us company, before they ran or flew away. Well done to the Wednesday and Thursday walkers for taking this on which though short(ish) was quite tough day exertion wise.
Keathbank bridge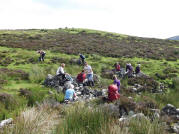 Ancient dwellings, Glen Shee.
Bachnagairn, Glen Moulzie.
I'm watching you! Clouds above Hill of Wirren, Angus.

The Dacies, Canness Glen.