Weather Forecasts
Supported by:
Blairgowrie and District Next Steps
News
2018
December
12th
Our Wednesday Christmas Party today. No bus because of it being needed for a schools outing, so a short walk up Newton Street and down to Riverside, then across the bridge at Keathbank, across the Brig, and back to the Town Hall. Where a buffet feast was laid out. This time we made our own sandwiches which added the icing to the many cakes and goodies everyone contributed. Certificates given to Margaret, Annie, Adrienne and George.
11th
This was our AGM and Christmas Dinner held once more at the Strathmore Arms in Glamis. We presented Charlie with a quaich on his final retirement from walking and minibus duties, It meant that this year we didn't take on many challenges as we did on previous years, but we'll see what the new year brings. He will be missed, if only because we won't hear the corny Christmas cracker jokes when we are out. Charlie had achieved some notable successes being 6th overall on the number of walks,7th overall on height climbed and 6th overall on distance walked in his time with us. But driving the minibus for us on our multi-day backpacking treks, linear walks and on the walking festival was a major contribution to our successes over the years. Marjory has done the most (40) moderate walks this year, and as an occasional advanced walker also did 13 of those. In addition to each of the camping treks. Irene McGugan did the most advanced walks, being present on each occasion this year, the first person to do this in 13 years. Linda and Jeremy did the same number of moderate walks, though Jeremy walked further but Linda climbed more. Pat Fraser and Nicky both did 61 walks each this year, with Nicky walking the furthest and Pat climbing the highest. This years champion was Hanne who did the most walks 65 out of the 85 on offer, and climbed and walked the furthest of everyone. But not just well done to those mentioned above, but to everybody else who took part, all contributing to the total 9,103km walked, 320,650m climbed. All being well we expect to top the 1,000 walks completed during 2019.
September
11th
A first aid practise day. An opportunity to (try) and remember what we should do and work around some problems. Luckily Linda volunteered to be the willing casualty. Several scenarios and an opportunity to practise CPR and use an AED. Bill the dummy was dressed to add a bit of minor difficulty, some people had trouble with getting the clothes off him and back on! We had broken wrists, head fracture, anaphylaxis, car accident, climbing accidents, and bikes too. Very enjoyable and as realistic as reasonably possible. Bruno was kept indoors.
After this we had some practise climbing wall sessions, getting used to an auto-belay, needing a leap of faith for the first few times, and more instructions to keep your legs apart. Photos on one of my albums.
3rd/4th
Our second camping trip of the year was to Glen Derby. We've been there before but not without midges. This time was different. It was a warm walk in without a hint of breeze and in the forest there were one or two of the blighters. However once out there was a bit of breeze and with dread we approached the ruin. Unlike on previous occasions the nice grass was overrun with nettles and sheep droppings, so we found another spot on a high point above the bog. This was nice and soft and even the tufted grass levelled off. An interesting and quiet night ensued without a hint of midge! The cooling temperatures were probably to be thanked and there was a slight frost before dawn. Overnight the skies were clear, with Mars and Venus in view, the Milky Way lined up overhead with a myriad of stars. The next morning showed a glorious sunrise, which I slept through as usual, and rapidly melted the frost leaving a clear and crisp walk out.
March
After not doing a trek for International Women's Day last year due to illness, this year we (Nick) decided to summit Badandun Hill. This was a full on winter walk ascending over 440m on a very snow covered hill. In places crisp enough to stand on, but often not! There was a large herd of red deer, numerous grouse and a few mountain hare to keep us company, before they ran or flew away. Well done to the Wednesday and Thursday walkers for taking this on which though short(ish) was quite tough day exertion wise.
Keathbank bridge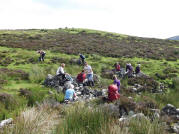 Ancient dwellings, Glen Shee.
Bachnagairn, Glen Moulzie.
I'm watching you! Clouds above Hill of Wirren, Angus.

The Dacies, Canness Glen.