Weather Forecasts
Supported by:
Blairgowrie and District Next Steps
News
2017
December
AGM
Thanks were given to: Sue for all the background support, as the emergency office contact line, helping with fund raising and being my right hand man. Charlie Davdison for driving the minibus on Thursdays, the Walking Festival and all the linear walks and expeditions. Without him these special days could not happen. Thanks also to everyone who helps on a Wednesday, Marjory, Shirley, Chris, Jean, Neale, Anne. Also to Strathmore Glens and all the helpers who help generate a significant lump of support funding.
It has been a medically challenging year and as you have seen has resulted in much fewer organised walks. However it reminds me that our original purpose is to facilitate opportunities for people who would not normally be willing, confident or able to do what we do. The scheme was started in 2004, to get people walking, and was intended to get people to move onto other organisations such as Ramblers, Hillwalkers, or even doing it on their own. Mostly this has worked and when I havenít been arranging events many of you have done so yourselves. Well done.
July
On 4th we tried (again unsuccessfully) to ascend Ben Lawers and get a view. Because of the low cloud we decided to do Meall Corrainach first in the hope that the weather forecast would be right and the cloud would lift during the afternoon. Some chance! The cloud got even worse, so a wet day was had but we managed Beinn Ghlas as well so we still did two Munros.
On 11th we did our first linear day walk of the year from Loch Rannoch through to Glen Lyon. The centre 4km was a trackless bog, full of peat hags, watery holes, more bog, and frogs. However we were rewarded with panormaic views of Ben Alder and the surrounding hills, including Sgor Ghaibre, generally only accessible from Loch Ossian, itself only really accessible by train to Corrour Station. Coiming down from the bealach Glen Lyon was visible in the sunlight and Ben Lawers, Tarmachan ridge and many more were seen to the south. We actually saw the summit of Lawers today! The woods were midgy to start off with and the promised lasting showers didn't appear and most of the day was done in shirt sleeves. However there was a last minute shower over the last km or so, but not enough for jackets, it was quite pleasant really. And (thankfully) for us Charlie was waiting in the car park having dropped us off in the morning. He drove 140 miles so we could walk 10!
May
Our 2017 away trip was to Arran, to tick off Cir Mhor and Caisteal Abhail. Cir Mhor was the one we missed out on our last trip, so we were determined to do this. Though to do it we added on 'The Castles'. This made a particularly challenging add-on. Our journey over and on the ferry was in brilliant sunshine, really hot with only a hint of a cooling breeze. The weather forecast for the day of ascent had been supposedly very wet and shown consistently like this for the last 2 weeks or so. So there was a bit of trepidation. When we actually arrived at the fateful day there was a haze with very high level cloud which stayed much the same all day. There was a bit of a breeze, just enough to need jackets on the tops. Visibility was pretty good with fine views of the Glens and through the haze we could make out the Kintyre peninsula to the west and the Ayrshire coast to the east. The sting in the tail was the ridge descent from Caisteal Abhail, and through and round the Witch's Step (Ceum na Caillich). This was a first serious ridge scramble for most and the very careful picking of routes with foot and hand placements meant it took a long time to complete. Views down and to either side were impressive, as were the rock formations. Aside from the joy of torturing ourselves for 10 miles and 1,200m of climbing there was a serious purpose, an investigation into how blood glucose levels vary on an arduous walk - my finger tips got rather punctured in the process! While this probably didn't add much to the sum of medical knowledge it did reveal how levels fluctuated before and after meals or other stops. It did however highlight the importance of ensuring that before starting a serious hill trek that a walker does have adequate preloading of carbs and proteins. It is relatively impractical to eat enough during an active day, and on this trip each person would have used around 3,000 calories. That is why the all important trip to the pub afterwards and a good stodgy meal sets you up for recovery.
How can we beat this for next year?
| | |
| --- | --- |
| | |
| The Witch's Step from afar. | The Witch's Step in front of us. |
| | |
| Down into the gully. | Relieved (and happy) walkers afterwards! |
April
The first newsworthy event of this year was an attempt at an overnight camping expedition to Glen Moulzie on 24/25 April. In the weeks leading up to the date it promised to be cold down to around -5, and with some snow. But from Sunday afternoon and into Monday morning the wind got up, and was forecast to gust to over 60mph. This was a bit unreasonable even for the experts so the exped has been postponed until May. A bit of a shame as it is a nice experience to be out in the snow overnight, but with the prospect of shredded tents and not least nerves common-sense prevailed - much to everyone's relief.
Keathbank bridge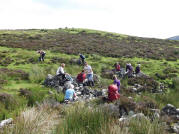 Ancient dwellings, Glen Shee.
Bachnagairn, Glen Moulzie.
I'm watching you! Clouds above Hill of Wirren, Angus.

The Dacies, Canness Glen.