Weather Forecasts
Supported by:
Blairgowrie and District Next Steps
News
2016
December
Our AGM and Dinner was once again at the Strathmore Arms in Glamis. As usual an excellent venue and sumptuous catering.
The annual report and accounts were presented, showing once again that we are in a very healthy position, despite having some large minibus repair expenditure. Plans for next year are much the same, particularly with similar expeditions planned, another away trip to Arran, our Walking Festival and other ad-hoc mountaineering and hill walking related activities. Once again Mike was our professional photographer.
August
Early August saw us take on our biggest challenge yet, and beyond Duke of Edinburgh standard! A 4 night expedition from Kinlochleven to Laggan, without crossing any tarmac. Starting at sea level and ending up 254m higher! 65km and 1,450m of ascent overall.
Day 1 saw us leaving Charlie and the bus at nearly 1pm, faced with a 13km walk to first camp. We went through a very wooded glen towards Blackwater Reservoir. Not wanting to stop in the trees because of midges we waited until we had cleared them before our first stop. But, the midges had second thoughts and we ended up wearing midge nets for most of the rest of the way. The only respite was at the dam where we could get 20m away from the shore. After this was an open and often missing boggy path towards Loch Chiarain. The planned camp wasn't necessary as a very welcome bothy was found. Recently renovated and with two storeys we spent a nice quiet evening in. 12.4km.
Day Two we left as the midges arrived and followed the path through Gleann Iolairean (glen of the small eagle) towards Loch Trieg. Again this was a mixed path, often missing around lots of boggy bits. We came across some wildlife in the form of a pair of Golden-ringed dragonflies mating in flight and buzzing around like a Chinook helicopter. There was also a resting Blue aeshna, which was languid enough to be touched before it flew away. Loch Trieg offered a sunny beach for a lunch stop, where we saw our first people for a couple of days, someone running along the shore and another couple with backpacks all heading west. The 'landrover' track was a nice change from the boggy and tussocky path previously but having been made up for Corrour estate's hydro scheme allowed for faster walking, up the long and gentle climb towards Loch Ossian. Eventually the station hove into view along with the youth hostel. Looking for the next camp in the breeze was a doddle and we came across a lovely promontory on the lochside. Flat places to pitch tents and a lovely view. Tea was partaken and in the early evening there was a sudden downpour, however once this stopped so did the breeze and then the Ossian denizens appeared, in their billions! 15.5km.
Day Three found the midges there all night and into the morning, with a loud hum outside the tent. Making sure everything was packed before getting out, with midge nets on, we were planning an early departure before breakfast, but just as I decided to move the wind came up, midges disappeared so we stayed a little longer. The midges were in dense clouds and so many that the guylines were smothered black with dead bodies. The gap between fly-sheet and inner was full of them as well. Not trusting to luck we kept moving until past the lodge and up onto the open hill side again. This was to be our longest and hardest day. A rough and wet path went all the way up towards Ben Alder and Bealach Dubh, with the path disappearing for the last 500m. 18.7km.
Day Four started off with a very windy walk from Culra Bothy. Very windy, so much that it impeded walking even on the valley bottoms. A chain suspension bridge was a bit of a challenge, as were some of the wider vehicle ones. Passing Loch Pattack the wind whipped up lots of waves and spray and when the sun poked through the glowering clouds formed small rainbows. Once we got into the edge of the forest and heading from Ben Alder estate into Ardverikie the wind eased up a bit and more behind us. We stopped a way down the track next to some trees for a long late morning break in the sun. Continuing we came across some heavy duty construction works for a hydro-power scheme, with miles of huge pipes stacked up alongside the track. Camp four was on a small knoll behind some trees next to Pattack Falls offering a bit of wind protection, but when it stopped it didn't take long for the midges to come out. The sun had been intermittently shining until early evening when the storm hit us. Very heavy rain, and wind which didn't ease until around midnight. During the afternoon we were visited by a fledgling cuckoo, obviously working up the courage to start migrating. During the evening downpours a herd of red deer walked down the other side of the river through a clearing, stopping to see what the green objects were on the other side. When they realised we were there they moved on rapidly. 12.3km.
Day Five was a leisurely walk out to the rendezvous with Charlie. Passing on our way several more waterfalls, and linns. There was also a tree which could have been one to have given Tolkien some inspiration, frozen with arms akimbo. Finally we got to the estate bridge where we stopped and waited with a fresh cup of tea for our transport back to civilization. 5.5km.
July
The main challenge for this month was a Gold (3 night) expedition from Linn of Dee to Glenmore via Lairig an Laoigh and Ryvoan. While this can be done with a one night stop it is a long trek, so we decided to take our time and enjoy ourselves. In the passing we ascended another remote and rarely visited Corbett, and had a look at a very scenic river gorge. The first night we stopped in the upper reaches of Glen Derry after a rain storm. A very grassy (and hence damp) pitch allowed us time to dry things out and get sorted for the next day. We passed the path to Loch Etchachan and the Hutchison Hut, and went through the Lairig itself towards the Fords of Avon. While lacking the majestic and towering cliffs of the Lairig Ghru it was still just as scenic, and knowing this wasn't as well used made it all the more memorable. The second nights camp was just beyond the stepping stones, from where we ticked off Creag Mhor with its craggy tors. On the third night we had to climb over the N spur of Bynack Mor (another misspelt on the maps with an e on the end). Being a Sunday this was a popular trek for many people and we saw loads. As we were heading north during the early afternoon we passed many people going up. By the time we camped at the River Nethy bridge and had an afternoon meal we were able ot watch them all come back. The weather had closed in for a while with wind and rain but we sat under our tarp and watched them, watching us enviously. After the rain had cleared we explored a very scenic gorge just downstream of the bridge. A short walk out saw us arrive at Glenmore Lodge just as Charlie arrived with the minibus.
June
This month saw two challenges. A Silver (2 night) camping exped through Glen Gairn to Invercauld. As well as camping in a storm we also summitted two Corbetts, Culardoch and Carn Liath.
The second challenge was a special by arrangement for our Thursday walkers. It was a challenge because they generally do not do strenuous walks. This was opened up to our Wednesday walkers and of these two groups, Linda Cullis, Myrtle Petrie and Millie Young took part. Well done to everyone. While we didn't break any speed records it was a group of 16, up and down together, and in fine weather with some stunning views. For our three newbies it was a first at that height and scenery.
May
Our away trip to Lochinver and Quinag was a great success. All three summits done, 14.3km with 1146m of ascent done in a bit over 7 hours including breaks. This is what working through our system can get you (if you want to go this far of course). The day started off very overcast, with clouds shrouding the summits down to around 400m. But as we got closer it lifted so by the time we got to the first top it was above us and progressively more and more stunning views were had throughout the day. We could even see as far as Morven in east Caithness, Ben Hope, Foinaven and more to the north as well as the big hills of the Cape Wrath area. The Western Isles were just visible, with Lochinver, Stoer and the Summer Isles to the south, all laid out before us. (more photos on the photo page, album page (via NSC facebook) and our own facebook page.
The planned route was 12km and 1200m ascent. This is done by drawing lines on a map, but the actual route which takes account of where we can feasibly go ends up in this case somewhat longer. The lower height gain is because of the actual route which didn't jump sideways down (or up) contour lines.
March
Once again the newsworthy year (not that what we normally do isn't newsworthy, but we do it often) starts off with our now traditional trek for International Women's Day. This time we decided to ascend Carn Aosda (again), but with a difference. Instead of a quick round trip we made a through walk from the ski centre, over the summit and head north down the ridge towards Baddoch. This made a linear 6km walk with only a little more ascent (due to the undulations on the ridge) than normal. We did it in under 3 hours walking. As in previous years there was a lot of snow, but this time not much wind and no extensive patches of ice. 12 ladies (and a token man) completed this, with Charlie driving the minibus (warm even after 3 hours of waiting somehow) to drop us off and take us back. There was enough hard snow to allow a few intrepid or more youthful souls to slide down some slopes. Visibility was fair and from time to time we could make out the surrounding other tops. The ridge sloped between Glens Baddoch and Clunie on the way to Braemar and the glen bottoms looked beguilingly snow clear. This of course means bog and mud so the better route was to stay high. In previous years the wind has usually been rather ferocious but this time it stayed relatively calm and we were able to enjoy a tea stop at the summit cairn. Lunch followed overlooking a large cornice later on. The route we took followed all the little intermediate ridge summits, for good measure. At the end we said hello to some rather tough garrons, hill ponies traditionally used for carrying deer carcases off the hills, in their wooded shelter near the road. Commemorative medals were presented to everyone taking part, with this year's ribbon being white.
Keathbank bridge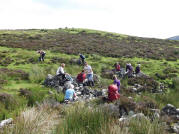 Ancient dwellings, Glen Shee.
Bachnagairn, Glen Moulzie.
I'm watching you! Clouds above Hill of Wirren, Angus.

The Dacies, Canness Glen.