Weather Forecasts
Supported by:
Blairgowrie and District Next Steps
News
2015
17 December
photo © Mike Brunton
Our final news item for the year is our AGM report. While we didn't do as many walks as the best year (2011 - 84) we did achieve an impressive 82. These were our advanced walks of course and we completed a further 43 of the Wednesday evening walks as well. These don't appear in the statistics as it is more complicated being a walk in service. Instead of a number west coastish Munro days, we started our equivalent to Duke of Endinburgh Award expeditions, with one Silver and one Gold completed. Considering most of our people haven't done anything like this before it was a major achievement. Next year we are going to trump the Duke by putting on a Platinum 4 nights exped. In addition to these we ran a climbing wall session (Nick being our resident SPA holder) and completed at the beginning of the year a number of challenging winter treks. We also ran some introductory abseil days, in advance of hopefully planning a charity abseil during the coming summer. Despite it being May our Glen Coe away trip was done under winter conditions with an interesting roped climb over a cornice at the end of the main access gully. The walking festival continues to be well attended and this year we added 3 extra days for an English tour company. The Wednesday Walks have had the walk fees raised because of rises in bus hire fees. This is the first time in around 5 years so at £5 still represents good value for money, providing refreshments, bus trip and exercise. With a funding boost from the charity shop organised by Sue and ongoing monthly draw 'ran' by Chris and necessary assistants we are in a good place to undertake some longer trips from time to time.
The AGM was again held at the Strathmore Arms in Glamis, we've been there 3 times now over the years and it continues to be the best venue, with an excellent meal and a good time. Thanks were given to Sue for being in the background as the HQ, and also allowing Nick to spend his time in the company of many others (secretly he is out of her hair though). Charlie Davidson (not to be confused with Charlie McRae who has a penchant for finding Charlie sized holes in peat bogs) helped by driving the minibus on the Thursday walks, and most importantly dropping us off and picking us up on the expeditions and linear treks. However without all our willing participants (914 places over the year were delivered, which is the record), there would be no events. Everybody has a good time and no fallings out, despite the mud, snow, sun, sleet and off plan diversions. So thank you everybody for another wonderful year.
2 August
Today we completed our first Gold Expedition. A four day/3 night trek from Tromie Bridge near Kingussie to Calvine, near Blair Atholl via Minigaig. This trip saw 3 intrepid members tackle something this big for the first time. They didn't realise at the start that what was billed as a 45km/1070m trip would end up being 50km/1170m. This was because we added in some evening walks and a Corbett ascent. The Corbett Leathad an Taobhain (912m) is very remote. This was done on the second day of the trip after we had set up camp at the Minigaig pass at 840m asl. This vies with the Lairig Ghru for the highest pass in Britain, but the Lairig is 'only' 835m. The Minigaig is altogether a much bigger undertaking. It may not seem so dramatic as the towering heights of Braeriach or Ben MacDui, but it forms a shallow saddle between two Corbett tops and is therefore far more open. While it was considered at one time as a General Wade route, he wisely opted for Drumochter giving is the A9 as we know and 'love'. The route via Minigaig is much more complex and involves some steep and very wet ascents. The central part of the trek is mainly footpath or nothing between Bhran, where the Gaick RoW diverts and Glen Bruar. The weather was mixed throughout, dry and warm on the first day, wet and cold on the second, so much that we were in our tents around 19:00 on the second day, though the rain and wind had petered out by the morning. The third day found us heading downhill towards Bruar, where we discovered an abandoned tent 10 miles from the nearest road! Someone must have been desperate. Mind you it was a cheapy 'festival tent so I'm not surprised it came to no good. What the leavers thought would happen to it is anyone's guess, anyway Hanne (having the lightest pack) volunteered to carry it out. A long trek down Glen Bruar took us past Bruar Lodge, outside of which was a Dutch Rolls Royce! This is the location of a new hydro power project so parts of the scenic glen look like an industrial site. Plans to camp near the Lodge were changed and we continued to a very nice cottage about 3km closer to Calvine. After the Lodge the rain storm that seemed to hit everywhere caught up with us but after a couple of hours it had stopped and even the sun came out as we approached our last camp. The sun and breeze gave us a lovely midge free drying evening. After tea we went for a walk to explore a cottage ont he other side of the river, but by now the water had risen and without a major crossing exercise was unpassable. We opted instead for a relaxed evening and game of charades. A reasonable night's sleep was followed by bright sunshine and no wind, producing the inevitable midges. A relaxed breakfast was followed by a pleasant climb over the hill to Calvine, where Charlie awaited with the mini-bus. As well as the species below we saw 2 (and caught one well Nick did) adders. It took a close interest in me so was put down in the heather where it promptly disappeared. Despite seeing lots of deer sign, hoofprints and droppings on the first two days, none were to be seen. And then on the third day several herds were spotted around Glen Bruar, as usual though on the far skylines. A memorable walk and our equivalent to the Duke of Edinburgh scheme for youngsters now has a competitor, but for older people.
At the start
Ringlet butterfly (Aphantopus hyperantus)

Common blue damsel fly male

(Enallagma cyathuerum)

Round leaved sundew, (saw lots on this trip)
Wolf spider (Pisaura mirabilis) female and egg sack
Last stop for a brew, with Schiehallion crowned in cloud
16 July
This was our first Silver Expedition, a walk from Linn of Dee to Blair Atholl via Glen Tilt. 40km and 1003m of climbing (due to sightseeing detours). No turning back on this one as the minibus disappeared back to Blairgowrie. Congratulations to Pat and Marjory for taking this on, while carrying full camping gear as we were out for 2 nights. Another new experience for them. It started off nice and dry, though after the third river crossing and approaching the first planned campsite we caught a heavy shower. We had just passed the River Tilt watershed at this point so decided that a few extra kilometres would see us at the Falls of Tarf. By the time we got there most of the rain had temporarily stopped but the available tent space was limited and far from level! Nothing for it but another river crossing to the other side. The water was low so it was easy. Once over we started camp, just as the rain came down again, and as the wind had dropped out came the midges as well. A tarp was quickly rigged so we had somewhere to shelter while we had a meal. After eating the rain stopped again, so we decided to go for a little walk up the hill. This gave us some stunning and alternative views of the Tarf Falls, probably very few people venturing here because of the river.
By the time we descended it was starting to get dark with a very light drizzle so bed was next on the agenda.
The following morning we found that the river had risen overnight so after a recce without packs we re-crossed and dried our feet. Nick did it 5 times and the water was cold! It was nice and sunny now so a pleasant descent to Forest Lodge beckoned. The next camp was just after Forest Lodge on the south facing slopes of Carn a Chlamain. We arrived early afternoon so had a lazy few hours in the sun before tea. Afterwards we explored some of the ancient pre-clearance settlements, on the other side of the river. This time though using a bridge.
Early next morning (well sort of as one of us can sleep very well in these conditions and rose later than a normal day - again) we set off arriving back at Old Blair shortly after lunch. All day it had been warm and sunny, until we got past Pitlochry and the clouds darkened and spots of rain appeared. It didn't matter as Charlie was waiting for us with the Minibus. But for whom, the whole expedition could not have taken place, so many thanks to Charlie and for a clean bus!
9 July
Today saw Charlie Davidson complete (finally) the Cateran Trail. Taking 2,737 days to do so. This is the record, beating the next slowest Bruce Bell by 1043 days! Some achievement and the day also saw Chris Campbell add to his Enochdu to Spittal tally making 5 times. Done as part of the group within the planned time as well.
15 May
Tonight was a special celebration of our octogenerian member Chris Campbell. He has turned 20 for the fourth time this week. In addition to being taken out by various people over the week a surprise party was held in the Royal Hotel. He thought he was just having a quiet evening with Nick and Sue. Chris has been with the Wednesday Walks since they started in 2004 and became one of the Paths for All walk leaders that year along with his wife Marjory who sadly passed away some years ago. Chris often talks of her and is aware that she is watching over him, though he now seems to get up to more scrapes than he used to, but he can still be guaranteed to get in any small hole he finds along our way.
In February 2005 we started the more advanced Next Steps events and since then Chris has walked a total of 2,386km, and ascended 75,973m (249,250ft) on 257 walks. During this time he has covered 41 sections of the Cateran Trail, not including a solo round for the Cottage Hospital, climbed 4 Munros, 4 Corbetts, 7 Grahams and done 21 Marilyns (hills that is not the ladies!). He has done 4 sections of the Fife Coastal Path and also completed Jock's Road. All despite being told by his doctor not to do anything too energetic or demanding. During 2007 Next Steps took responsibility for delivering the Stride for Life Wednesday walks, since when Chris has helped lead a further 276 days with the fourth highest leader attendance. Well done and congratulations from us all.
| | | |
| --- | --- | --- |
| | | |
| Welcoming party (hiding behind closed doors | Enjoying the meal with organiser Hanne | Commemorative bottle |
| | | |
| Lily reciting a poem 'wot she rote'. | Certificate and presents | Cutting the cake |
9 May
On 9th May 2005 we started the first of our advanced series of walks beyond what we do on Wednesdays. We have now reached our 10th Anniversary culminating in an ascent of Buchaille Etive Mor (8 May below). Well done and thank you to all those who have come along and helped not only one of the first, but also the largest and most successful health walk scheme in Scotland. With an average age of over 65, to in some cases over 80 years of age, with over 320 people having come through the scheme, and a typical week seeing around 60 walkers spread over three days, we are fully self funded and voluntary run. The original scheme (Stride for Life) itself started in 2004, and Next Steps was spawned from this due to popular demand and capability.
8 May
On 8th May 2015 we completed our 667th walk with an ascent of Buchaille Etive Mor. This was arranged as one of our now regular annual away trips. We stayed in Glen Coe Youth Hostel (well we are recycled teenagers). The weather forecasts for the weeks leading up to this trip didn't lead to any confidence of goods views and fine weather, especially with the very recent snow, - this is Scotland after all! But as it happened the wind had dropped, clouds had broken stayed well above the summits and the sun was out most of the time. Much of the snow had disappeared but enough remained in Coire na Tuilach to make for a challenging exit. This was steep enough, and at the top of a 500m ascent to be equivalent to a Grade 1 winter climb. We had planned for the eventuality of unknown snow and ice so were carrying ice-axes and crampons and these were put to very good use here. An initial set of steps were kicked in and a 'stomper' belay rigged at the top as this was a first for almost everyone. While we have done similar climbs in the past none have been so exposed or at the top of a steep scree slope beyond the snow. So belaying was a sensible precaution. Needless to say the leader had to go up unprotected, but that is what they are there for! With much relief everyone made it, some more nervy than others! By this time we were a bit behind schedule (based on mere walking times) so opted to have lunch at the col. A brave raven even joined us and made off with several remains of people's sandwiches, though it wasn't brave enough to take it from our hands! From the col it was a straightforward ascent to the summit, and once there we were rewarded with some stunning views across Rannoch Moor, Ben Nevis and the Grey Corries, in fact every major hill around. Our planned day was to take in the other Munro top Stob na Broige but we were already behind and were conscious of someone waiting below so opted to miss this one out and directly ascend from Stob na Doire instead, which at 1011m was higher than Stob na Broige which stands at 956m. (For explanations of this peculiarity, complaints need to be made to the Munro Society and the Scottish Mountaineering Club!) This descent was very challenging as the path was covered in snow so we had to pick our way around the various slippery rocky outcrops and steps alongside. Eventually we made it to Lairg Gartain and the path alongside River Coupall which led back to the car park. To finish the day we headed straight back to the Clachaig Inn for dinner, followed by showers and our regular quiz.
| | |
| --- | --- |
| | |
| The friendly (but expectant) raven | Getting up and over the gully rim |
| | |
| | |
| Ready to bring up the next victim er client! | Just before setting out on our return journey |
6/7th April
The first camping trip of the year took place in Glen Derry. It was intended to be a cold weather one with the expectation based on weather forecasts of probably some snow and freezing temperatures. On the day this was not achieved. The weather was warm, not much breeze and no snow. However we did find a level, dry and comfortable pitch site near the Derry Burn up from the Lodge. A comfortable night was had and we even managed to walk out in just over an hour! Not bad with heavy packs. We had a camp fire which kept us occupied for a few hours but the smoke managed to infiltrate everywhere. Some things still smell of it. This was an early date in an attempt to avoid being midge bound, and the warm weather did cause some alarm but the midges decided not to hatch after all.
Sunday 8 March
Our first event of 2015 was a trek in commemoration of International Women's Day. In previous years we have organised mass ascents of a Munro in Glen Shee, however this year, after last year's horrendous weather we had very few takers so it was re-planned. Just in case Carn Aosda in winter wasn't enough someone had the bright idea of tackling Jock's Road instead! Twelve brave souls took part, and were not put off by the long range weather forecasts which predicted high winds and snow along the nearly 21km (13 mile) route which ascended higher than Carn Aosda! Planning became quite serious as there are no escape options and since it is a linear walk we couldn't return to the start as the minibus would have left to drive round to the end! Because the wind was forecast to be blowing from a westerly direction we opted to have it at our backs and trek from Auchallater in Glen Clunie to finish in Glen Doll. One of the advantages being that it is a downhill route - starting at 367m above sea level and finishing at 264m, though this belies the climb in the middle to 920m! In many respects it is the most scenic as there is a long gentle climb into Glen Callater with a sharp ascent onto the Tolmount Plateau, before descending through Glen Doll. The route itself is properly known as the Tolmount Path as it skirts under the Munro of that name, but was renamed Jock's Road in memory of Jock (John) Winter whose fight to maintain it as a right of way in 1888 resulted in the Scottish Right's of Way society and eventually the Land Reform Act.
On the walk in there was very little snow present, though Loch Callater itself had huge sheets of ice remaining from the winter freeze. We started off in shirt sleeves with no wind, though by the time we reached the loch it was starting to blow and cold so jackets were put back on. We had planned a lunch stop at the head of the glen and in normal fashion this co-incided with a worsening of the weather and a very sharp and prolonged snow and sleet shower, enough to get over jackets wet. Having the wind behind us meant that it wasn't a major hardship and by the time we had climbed to the plateau the sun had come out again, though the wind was still there. We stopped for another break and a view of the surrounding hills at the high point - Crow Craigies. Long enough and while out of the wind cold enough to turn the wet jackets to ice!
From this point we came across many large patches of snow, sometimes hard enough to stand on but in many instances soft enough to sink to thigh depth. These patches covered the many burns and hollows so it was a bit of a struggle. This snow didn't clear till well past the Bourach at the head of Glen Doll and made the descent challenging at times due to the path being covered at many crucial points. This route was new for most of the participants so congratulations for completing it under these conditions. Many thanks to Nick for organising and leading the walk (and putting up on his own with twelve women) and Charlie for driving the minibus and making the event possible. Pat, Hanne, Irene McGugan, Irene Rintoul, Anne, Marjory, Nichola, Jean, Madeleine, and Mary took part from the club, with Jackie and Jane guest participants.
This is Carn Aosda, in the sun and nobody signed up for it! Which is why we went instead to Jock's Road
| | |
| --- | --- |
| | |
| At the start | A still frozen Loch Callater |
| | |
| | |
| Looking back down Glen Callater | Looking east towards Glen Moulzie and Loch Esk |
Walking in alongside Callater Burn

Descending towards Davy's Bourach

These photos © Jean Stewart
Keathbank bridge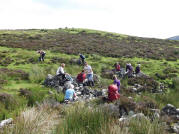 Ancient dwellings, Glen Shee.
Bachnagairn, Glen Moulzie.
I'm watching you! Clouds above Hill of Wirren, Angus.

The Dacies, Canness Glen.